We recently asked the Crabtree family about building with TR Homes. This farming family selected the Hamelin Bay design for their weekender home in Bremer Bay.
Tell us about yourself and your farming background?
My husband is a third-generation sheep farmer and we moved to Gairdner nine years ago to work on the farm. I live with my husband and our two young girls. We split our time between the farm and our home in Bremer Bay. We love our new home as it's so close to the beach. Perfect for our family.
Why did you decide to build a new home?
We wanted a place to go to give us a break from our busy lives. We also wanted our kids to live by the sea. This is the first home that we have built, and I'm so proud that we have created this together.
What was the process like building with TR Homes?
It was so easy and straightforward. We found the block and then we signed up with TR Homes. Farming can be stressful, so we needed a process that was easier to follow. TR Homes updated us the whole way. We felt well informed. Selecting an existing home design worked for us, and we were able to really make it our own.
What made you choose TR homes over other builders?
We knew another farming family that had built the Hamelin Bay. They had a great experience, so we knew what to expect.
Why did you select the Hamelin Bay?

We loved the design. The home suited our block, and the open plan layout was perfect. We also didn't have to make too many changes.

What's your favourite feature of the house?

Everyone comments on the high ceilings. It's just something we love because it really makes the house feel nice and open. Also, the windows. The stove is positioned so that I can cook pancakes in the morning and look out over the ocean or the trees. We are really close to nature.

Do you have any advice for people building with TR Homes?

Have a clear idea when you pick out your selections. The TR Homes staff were helpful and accommodating. It was just so easy. Even when I changed the tiling, I felt like nothing was too much trouble. The staff gave really great advice.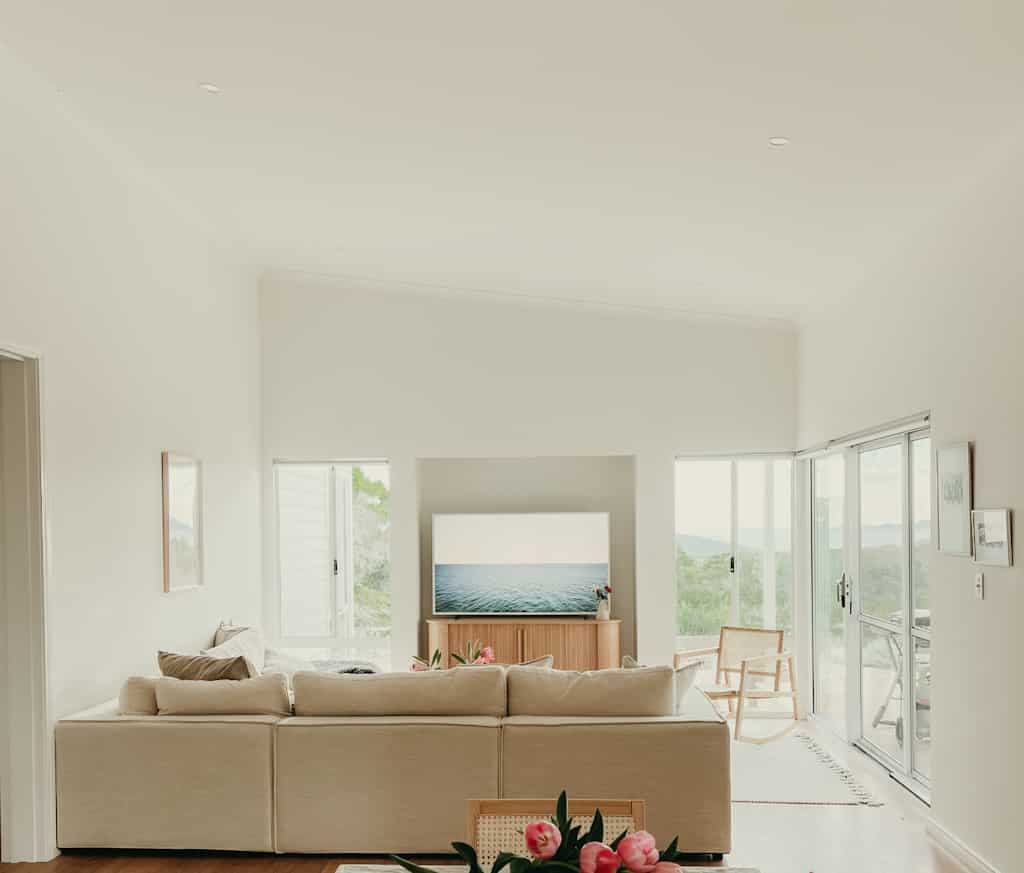 Would you recommend TR Homes to friends and family?
I would absolutely recommend them because it was such a relaxing process. Building can be quite stressful for some people. We just didn't want that in our life. We are already really busy with the farm and our young kids. We might build again with TR Homes in the future.
Thank you to the Crabtree family for sharing their home-building journey with us. For future updates on this home go to Instagram pages @trhomesaus & @nathalia.crabtree. Photos are paid for by TR Homes and are the work of Nathalia from @nathalia.crabtree