Protecting Your Home in Cyclone-Prone Regions
Living in a cyclonic region can be challenging. The devastation caused to homes and communities by a cyclone can be catastrophic, which is why it's so important that your home can ride the storm. No home is cyclone-proof, but having an experienced builder is essential when designing a cyclone-resilient home that meets construction standards and, more importantly, protects your family.
Why do you have to design for cyclone regions?
Homes that are built to the correct wind classification perform well in severe storms. You can't guarantee your home will be cyclone-proof, and homes may still suffer minor damage in a severe tropical storm; however, this is about making homes cyclone-resilient and reducing damage caused by cyclones.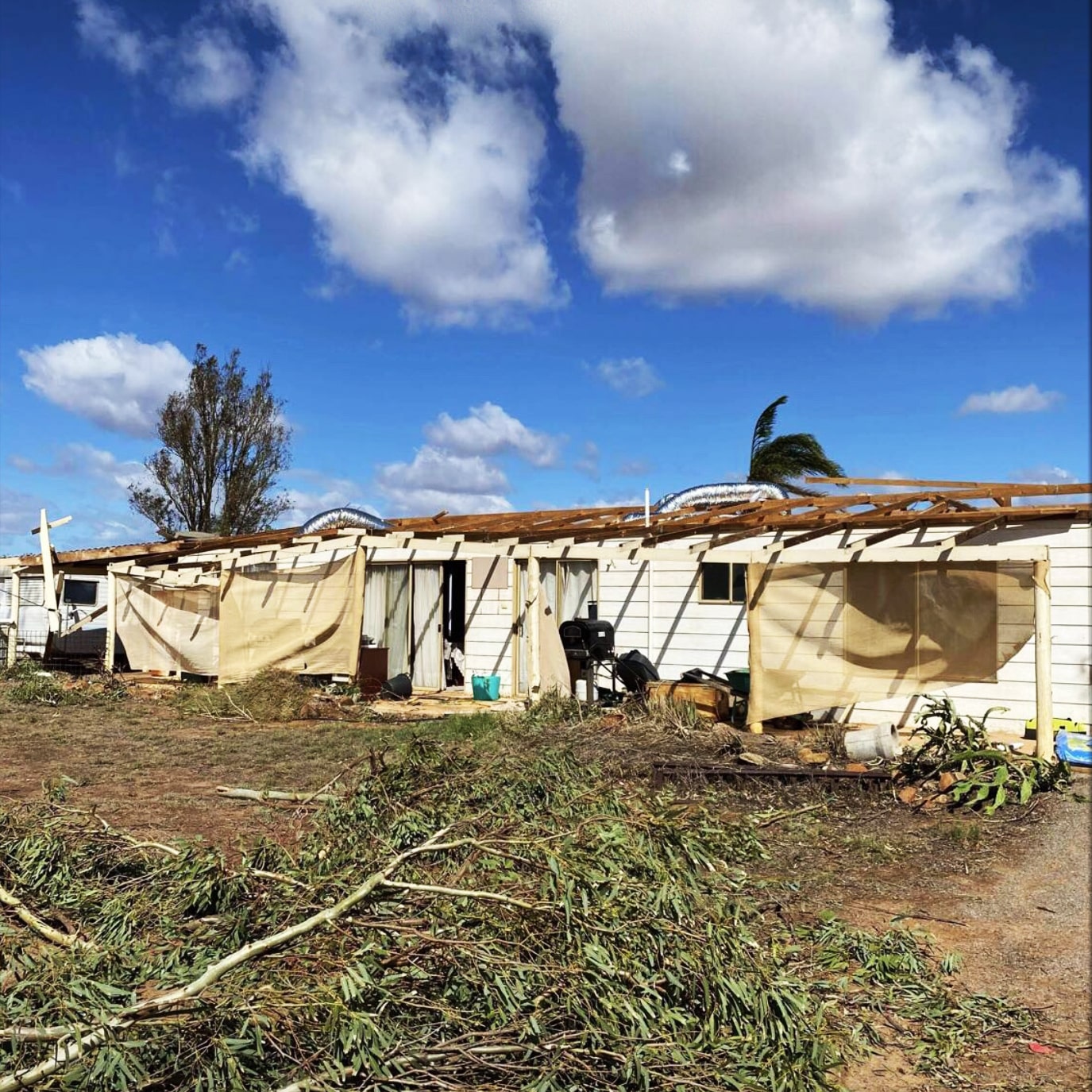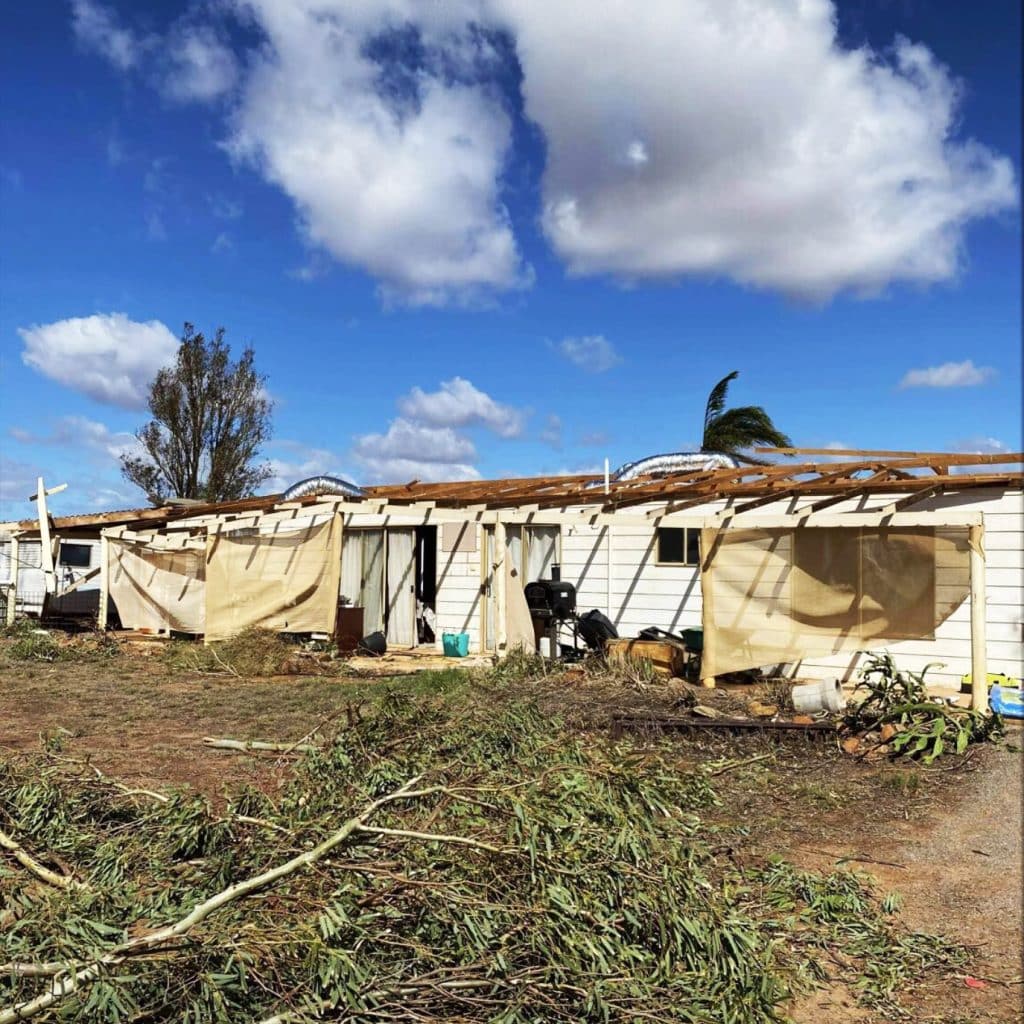 Image: Damage caused to a client's WA home during Cyclone Seroja.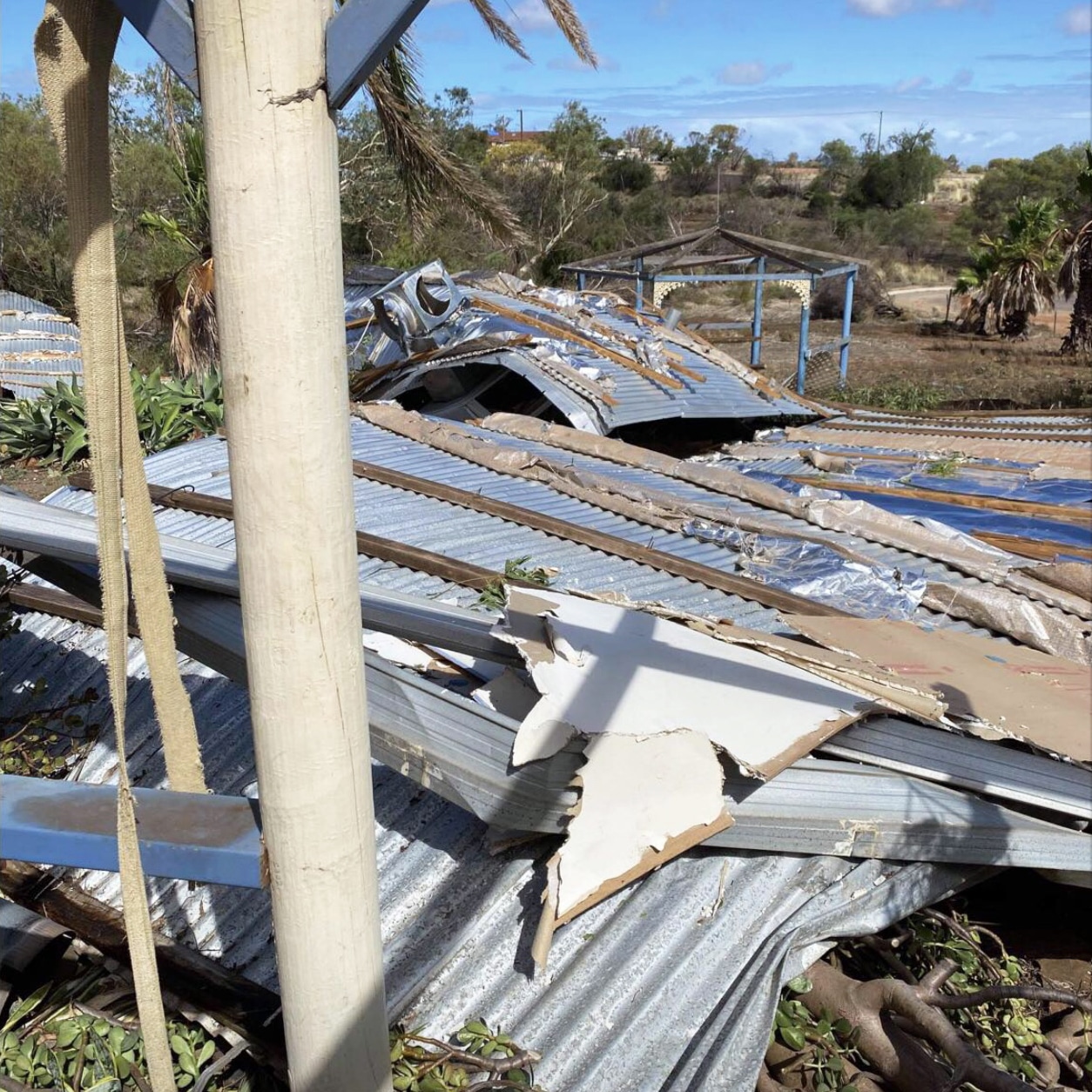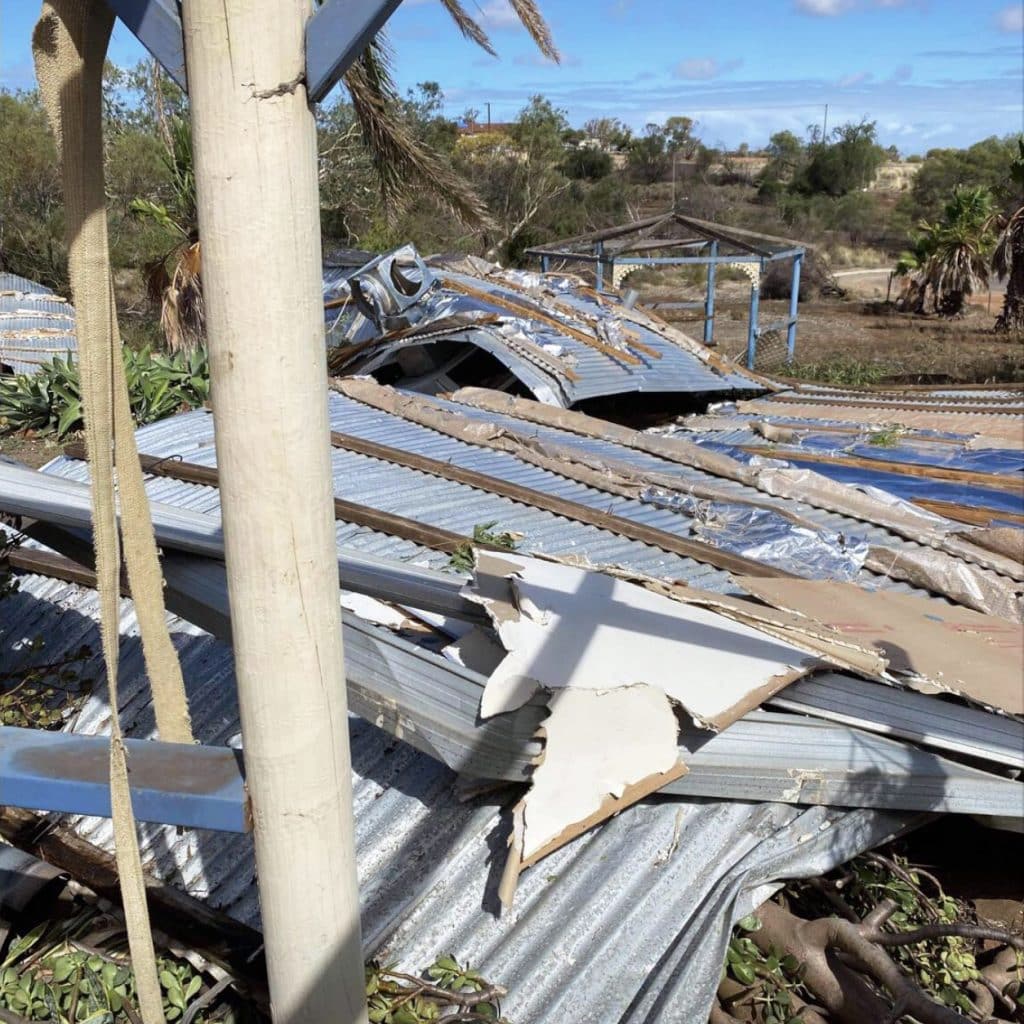 Who determines your home's cyclone rating?
To determine the wind classification for your building site in Western Australia, there are four factors to consider, including:
Region
Terrain Category
Shielding Factor
Topography
This map details the wind region classifications across WA however, TR Homes will assist with determining your home's specific cyclone rating. This rating forms part of the site classification certificate required before obtaining a building permit. WA's northwest coastline between Broome and Exmouth is the most cyclone-prone region, with an average of five tropical cyclones per season.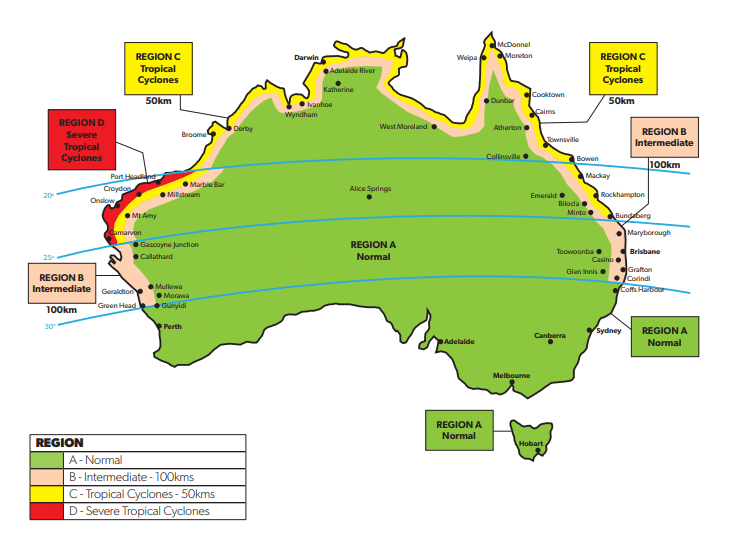 Image Source: Lysaght Wind Classification Design Guide
The terrain category describes the surface roughness of the surrounding area 500m from the housing site. It can range from very exposed open terrain (category 1 – TC1) to terrain with numerous closely spaced obstructions (category 3 – TC3). The shielding factor is whether any structures may shield your building from the wind. Lastly, the topographic classification determines the effect of the wind on the home due to its location on a hill, ridge, or escarpment.
Understanding tropical cyclones in WA
Cyclones are caused when a low-pressure system develops over warm, tropical oceans and intensifies over several days. They span hundreds of kilometres and travel several hundred kilometres. In Western Australia, our cyclone season falls between November and April. Cyclones are categorised from 1 to 5, with one being less than 125km/h winds and 5 being greater than 279km/h. Wind speed decreases as cyclones move across the land.
Impacts of cyclones on houses
Cyclones unleash strong and destructive winds that can raise sea levels and cause storm tides over coastal areas, heavy rainfall and potential flooding. Strong winds generate pressure inside and outside of a home. There is wind pressure on the wall facing the wind, and suction of the roof and other walls, pulling them upwards and outwards. Roof damage is, by far, the greatest risk your home faces during a cyclone. Other potential issues to homes include wall, ceiling and flooring damage due to water ingress, broken windows, doors and garages, and attachment failures of roof fixings such as guttering and fascia.
How to protect your home against cyclones?


If your home is cyclone-rated, TR Homes will ensure compliance with all cyclonic-region building requirements detailed in the National Construction Code (NCC 2022). Depending on the classification, upgrades to the home design may include:
WALLS AND CEILINGS with additional bracing and studs to withstand wind pressure and strengthen the home against damage.
CYCLONIC-RATED FASTENERS in increased quantities to the roof and framework provide superior holding ability and reduce stress under high winds.
WINDOWS with cyclonic-rated mesh screens and laminated, shatter-proof glass resist debris penetration and wind pressure.
EXTERNAL DOORS are solid-core with cyclone-rated mesh screens to withstand strong winds and reduce window breakage by flying debris.
GUTTERING removed and increased eaves reduce the risk of being torn off, causing roof and internal water damage.
CYCLONIC TIE-DOWN DETAILS made from steel are anchored through the concrete slab to withstand wind pressures.
METAL ROOFING with cyclonic-rated fasteners resists wind pressure, flying debris and water penetration.
STEEL FRAMEWORK prevents termite timber attack and deterioration, ensuring building strength during storms.
EXHAUSTS installed into the walls replace roof flumes to reduce the risk of roof damage and water penetration.
Changes to the National Construction Code in WA
The National Construction Code (NCC 2022) has introduced a State Variation to address the design of buildings in wind Regions B and D within Western Australia. This amendment follows an investigation conducted after Tropical Cyclone Seroja hit the Mid West region of WA in 2021. The Variation requires builders to consider increased internal pressures when designing structures and adopt the cyclonic classification (C) instead of the non-cyclonic (N) classification. These changes aim to further enhance the resilience and safety of buildings in cyclone-prone areas.


Image: Custom home to Exmouth. Cyclonic Rating: Wind region C/D (cyclonic)
Trust an experienced builder for your cyclone-rated home
Thankfully, for over 50 years, TR Homes has been building quality homes for people in cyclonic-prone regions across WA. We deliver to some of the most remote towns and have a unique insight into the needs of regional people. Our experience in building homes to suit cyclonic-rated regions is second to none, and because we choose quality fixtures and fittings from premium suppliers, you can be sure your home will deliver everything you deserve. Speak to one of our team to learn more about building a cyclone-resistant home today by calling 9493 2998.