Renee and David Huntley wanted a tree change and chose a TR site built home for their move from Baldivis to a semi-rural environment in North Pinjarra. The Huntleys feel their new home is too grand to be labelled a granny flat and prefer ancillary home, which is located on the same land as their daughter's property. They are excited about being closer to their grandchildren and their Sales Consultant Leisl got the low down when she went to visit them recently.
What made you choose TR Homes?
This was because you were willing to listen and interpret our vision, even offering great suggestions like higher ceilings. You visited the property early in our discussions, without enforcing pushy sales request for payments up front prior to your visit. That really would have put us off.

We were also able to visit TR Homes and view a display. Although we did find it hard to conceptualise what 100sqm would be like from the plans, we were grateful to be able to walk through the 70sqm McQueen, it made it easier to get a feel for our new home.

Most importantly, the budget worked within our expectations, but we didn't have to compromise on quality. The new home boasts good acoustics and it has been trialed in a storm with 100km winds and sideways rain and has come through with flying colours.
You modified the floorplan of The Lauren. How did you find the process of designing your own home?
Our suggestions and design alterations were acted on and implemented, feedback was also provided, and we were pleasantly surprised by TR's quick responses. We found the team were "on the ball" throughout the process.
How was the process of building with TR Homes?
The site guys were great. The site was tidied every day and we were informed daily of the processes. The contractors that TR used, especially the Kiwi boys, were really funny and approachable, any issues or concerns were discussed and explained or rectified as soon as possible.

Michael Scully, TR Homes Contractor, gave good advice regarding the septics and grey water system. Our new home is environmentally efficient – cheap in power bills, water storage and we love the Wi-Fi boost from the main house. Shayne Hammond, TR Homes Construction Supervisor, was great as he always clearly communicated to us.
Would you recommend TR to family & friends?
Yes absolutely! We can't rave enough about our new home and the lifestyle it has enabled for us. Thank you to everyone involved.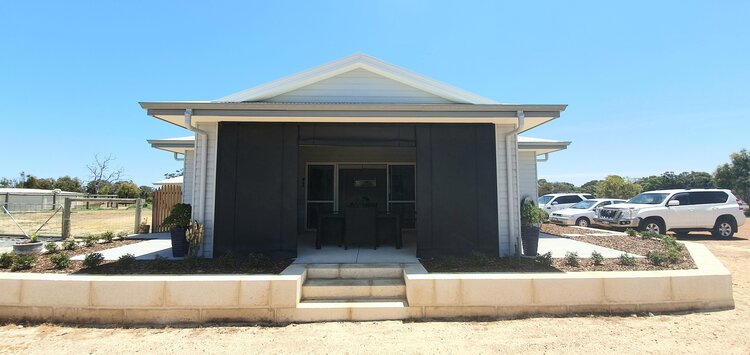 ---

You can click through the photo gallery and watch the walk through video above and look through more of our Metro Granny Flat designs on our website, which are built on site within 100km of the Perth GPO. There are 12 in total, from a 1 bed through to the 3 bed, 2 bathroom Lauren.
---

If this story has inspired you to find out more about us, pop in your information below and one of our consultants will be in touch! Or go the quick route and call us on 6365 5795. We're open 7 days a week.