The Jones' were so happy with their new TR home, that they sent our customer services team some pictures and a thank you. We decided to dig a little deeper and asked them to answer a few questions about themselves, their new home and the process of building with us.
Tell us a little bit about yourself and life in Dwellingup
We have had our little slice of heaven, a 16-acre property, surrounded by a pristine jarrah forest, in Dwellingup since 2005. We initially planned to use the existing homely cottage as a weekend retreat, however the tranquillity and relaxing atmosphere was a significant draw card to have us permanently move from our life in Albany, in 2010. Since then, we have made it into a warm, and welcoming home where we have created so many fabulous new memories. Our two children have since married and we now have three beautiful grandchildren with another one due in May, we have simply outgrown the cottage. Our piece of paradise has become a real tree change. We have become fully self-sufficient, growing a range of summer fruits and our own vegetables, which is happily distributed amongst appreciative family and friends. We have cows to mow the grass and a Kelpie, called Rusty, to keep us in line.
Why did you buy a TR Home? What was the ultimate decision that made you choose TR?
When we decided to build, we contacted three building companies, but none of them were willing to travel to Dwellingup. We had hit a speed bump, until we saw an advert in the Elders Weekly on modular homes. We initially went to the company advertised but were not overly impressed with what they had to offer. On the way home, we passed by TR, so called in, and what a great decision that was. We were so impressed with the personalised service, abundance of information and variety of floor plans and additional extras you had to offer. Not to mention the exquisite quality of the build. We really felt like we were your most valued clients.
What are the advantages / benefits you see in building modular homes?
The advantage for us was that everything was included in the price and no nasty surprises, as well as so many options. The fact that completion of the home was just three months, meant things for us became so much more stress free and simplified (once I got my kitchen right – just ask the wonderful Stacey).
You modified the floorplan of The Grange. How did you find the process of designing your own home?
Seeing The Grange was a great introduction to designing our dream home. The floor plan was a great base to work with and it was a bonus being able to walk through it, giving us an opportunity to visualise the size and shape of rooms, to work in with our ideas.
Would you have designed anything differently now that you can physically walk through your design?
Not at all. This is the dream home we have always wanted, and we couldn't be happier.
Would you recommend TR to family & friends? Why?
Absolutely! We can't thank the TR team enough for all their guidance, patience, support, and recommendations during this process. It was our first build, and the last 12 months has been an absolute pleasure for us and never doubted the team once. Putting 100% trust in TR Homes meant our dream could become a reality. A big thank you to Mitch, Stacey, Shayne and Pud as well as all the behind the scenes staff. We need to mention how brilliant the transport guys were, having to manoeuvre through such a restricted track and working in the most extreme weather conditions. All the contractors have been very efficient and easy to get on with as well.
---

You can scroll through the pictures the Jones' took of their new home below: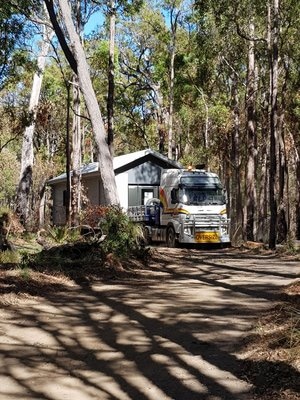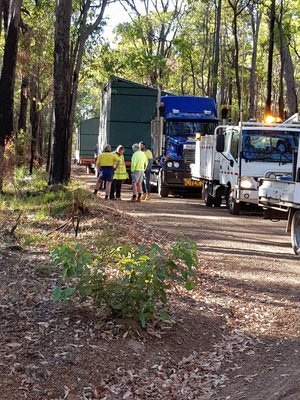 ---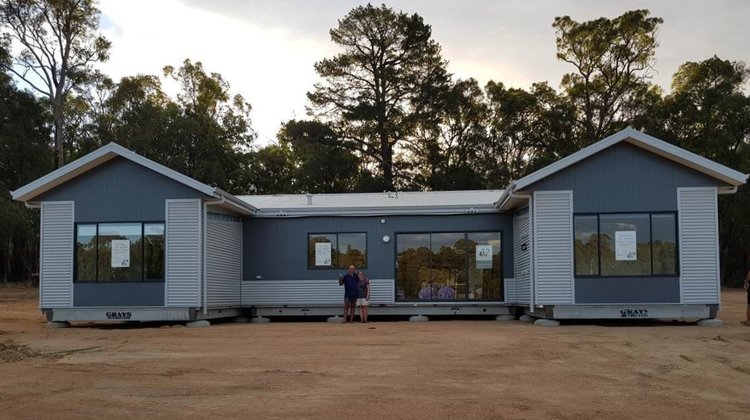 ---
Here is some drone footage showing the tight access to the property. Careful planning allowed 3 semi trailers to access the land and deliver the modified Grange house design. At TR Homes we will always find a way!
Can you find the blooper that we kept in?
Note, no drones were hurt in the making of this film.

If the Jones' have inspired you to find out more about us, pop in your information below and one of our consultants will be in touch! Or go the quick route and call us on 6365 5795.